Hamlet A.D.D. is a feature film which re-imagines Shakespeare's timeless play as a bizarre and hilarious tour through the ages.  The film was written, directed, and produced by Bobby Ciraldo & Andrew Swant of Special Entertainment. A work-in-progress preview screening took place at the Los Angeles Museum of Contemporary Art (MoCA) in April 2014. For photos from the event go HERE. 
Hamlet is an easily distracted prince who is not quite ready to do the task at hand.  Challenged to kill his uncle Claudius by the ghost of his recently dead dad, Hamlet enthusiastically proceeds to do everything but.
The epic story begins in 1602 and leaps chronologically through time to the present, then into the distant future. From practicing stage acting in the 1800s to producing a television drama in the 1950s, from dancing at the discothèque in the 1970s to culinary prankery in the distant future, Hamlet always manages to find something to distract himself from taking revenge for his father's murder.
This visually stunning film features live-action characters in a colorful cartoon world.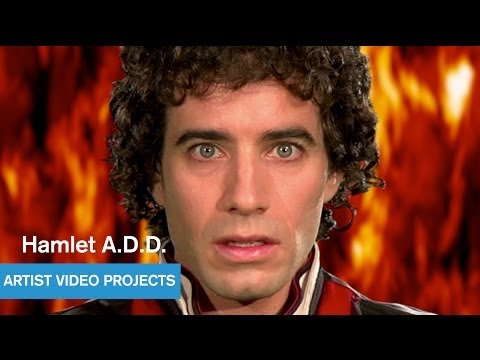 Guest stars include Dustin Diamond (Saved by the Bell), Mark Metcalf (Animal House), Majel Barrett Roddenberry (Star Trek), Trace Beaulieu & Kevin Murphy (Mystery Science Theater 3000), Kumar Pallana (Rushmore, Royal Tenenbaums), Mark Borchardt & Mike Schank (American Movie), Tay Zonday (Chocolate Rain), Leslie Hall (Yo Gabba Gabba), Samwell (What What In The Butt), Michael Q. Schmidt (Tim & Eric Awesome Show), and legendary comedian Neil Hamburger.
For an in-depth article about the making of Hamlet A.D.D. go HERE.
"Ciraldo and Swant allowed me to 'scrub through' a number of scenes of the film with them in their studio recently. I was beside myself with giggles, like a misbehaving schoolgirl … I saw evidence of some pretty nimble, if impish, literary and social criticism. It's oddly true to the text, though radically transformed with its layering of references, its tone and pacing. The philosophical questions about Hamlet's state of mind will remain, with a few more thrown in perhaps."
— Mary Louise Schumacher, Milwaukee Journal Sentinel
A clip from the film appears as a special feature on the Mystery Science Theater 3000: XV box set and critics had this to say:
"A very odd clip…"
— Ain't It Cool News
"Bizarre…"
— Rob Vaux, FilmCritic
"Quite peculiar…and quite entertaining."
— Bill Gibron, PopMatters
"A strange preview…"
— David McKendry, Fangoria
"A cool-looking reimagining of the classic."
— Erich Asperschlager, DVD Verdict
"This is going to be cool and bizarre."
—366 Weird Movies
"Perhaps the weirdest feature is a clip from Hamlet A.D.D.
… I'm not quite sure what type of movie this will be."
— Joe Lawler, MetroMix
 Visit the Official Hamlet A.D.D. website! 
Cast
ADVANCED PRESS:
"Looks epic (and epically insane!)"
— Matt Wild, The Onion A.V. Club
"Ambitious and bat-shit … possibly the most tripped-out Hamlet adaptation ever."
— Evan Rytlewski, Express Milwaukee