Hamlet A.D.D. re-imagines Shakespeare's timeless play as a bizarre and hilarious tour through the ages.
The film was written, directed, and produced by Andrew Swant and Bobby Ciraldo of Special Entertainment. The world premiere took place at the Los Angeles Museum of Contemporary Art (LA MoCA) in April 2014. For photos from the event go HERE!
Hamlet is an easily distracted prince who is not quite ready to do the task at hand.  Challenged to kill his uncle Claudius by the ghost of his recently dead dad, Hamlet enthusiastically proceeds to do everything but.

The epic story begins in 1601 and leaps chronologically through time to the present, then into the distant future. From practicing stage acting in the 1800s to producing a television drama in the 1950s, from dancing at the discothèque in the 1970s to culinary prankery in the distant future, Hamlet always manages to find something to distract himself from taking revenge for his father's murder.

This visually stunning film features live-action characters in a colorful cartoon world.

Dustin Diamond (Saved by the Bell), Mark Metcalf (Animal House), Majel Barrett Roddenberry (Star Trek), Trace Beaulieu & Kevin Murphy (Mystery Science Theater 3000), Kumar Pallana (Rushmore, Royal Tenenbaums), Mark Borchardt & Mike Schank (American Movie), Tay Zonday (Chocolate Rain), Leslie Hall (Yo Gabba Gabba), Samwell (What What In The Butt), Michael Q. Schmidt (Tim & Eric Awesome Show), and legendary comedian Neil Hamburger (Entertainment).

Bobby Ciraldo as Hamlet
Robert Richard Jorge as King Claudius
Andrew Swant as Horatio
Xav Leplae as Polonius
Harmony Murphy as Ophelia
Dustin Diamond as Bernardo
Mark Metcalf as Speedy McSpitty
Majel Barrett Roddenberry as Queen Robot (voice)
Trace Beaulieu as Evil Robot (voice)
Kevin Murphy as King Robot (voice)
Mark Borchardt as Gravedigger
Mike Schank as Gravedigger's Friend
Neil Hamburger as Osric
Kumar Pallana as Kumar
Samwell as Communications Officer
Tay Zonday as Laertes (voice)
Leslie Hall as Zombie Killer
Michael Q Schmidt as Officer Norton
Laura Klein as Queen Gertrude
David Robbins as Norwegian Captain
Jerod Duris as Laertes
Eric Ziegeweid as Rosenstern
Eric Gerber as Fortinbras
Sarah Price as Triplet Judges
Scott Reeder as Don London
Ray Chi as The Unicorn
PRESS
"Shakespeare like you have never experienced it before. In their visually stunning, endlessly inventive cartoon world, Ciraldo and Swant cast stars of a vibrant arts community alongside internet celebrities and absurdist comedians." — Los Angeles Museum of Contemporary Art (MOCA) "Some believe if Shakespeare lived today he would be writing for television. The campy Hamlet ADD is what that might look like. It is the hybrid episode of Dr. Who and Star Trek Shakespeare never wrote." — Duane Dudek, film critic, Milwaukee Journal Sentinel
"Ciraldo and Swant allowed me to 'scrub through' a number of scenes of the film with them in their studio recently. I was beside myself with giggles, like a misbehaving schoolgirl … I saw evidence of some pretty nimble, if impish, literary and social criticism. It's oddly true to the text, though radically transformed with its layering of references, its tone and pacing." — Mary Louise Schumacher, Milwaukee Journal Sentinel
"A zany new take on Shakespeare … Utterly bizarre and hilarious. Each new time period adds another layer of interesting and well-executed visuals. The green screen work is far from cheap, and it's no surprise the project took a decade to complete. Shakespeare reimaged for the age of viral videos and memes." — Joey Grihalva, Urban Milwaukee "A retelling of the Shakespearian masterpiece, adapted for the YouTube generation. The bizarre film will make you laugh… and probably forever alter your perception of the Bard's classic." — Radio Milwaukee
A clip from the film appears as a special feature on the Mystery Science Theater 3000: XV box set and critics had this to say: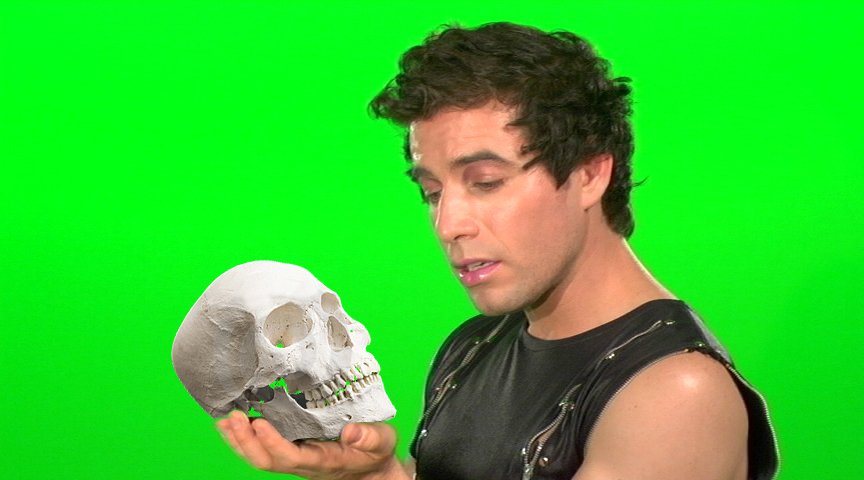 "A very odd clip…" — Ain't It Cool News
"Bizarre…" — FilmCritic
"Quite peculiar…" — PopMatters
"A strange preview…" — Fangoria
"Perhaps the weirdest feature … I'm not quite sure what type of movie this will be." — MetroMix
"A cool-looking reimagining of the classic." — DVD Verdict
For an in-depth article about the making of Hamlet A.D.D. go HERE. Scenes from the film have been shown at White Columns gallery (New York), the Green Gallery, the Frederick Layton Gallery (MIAD), and INOVA gallery (UW-Milwaukee). The film was made possible in part through support from the Mary L. Nohl Fellowship for Artists.
Visit the Official Hamlet A.D.D. website!