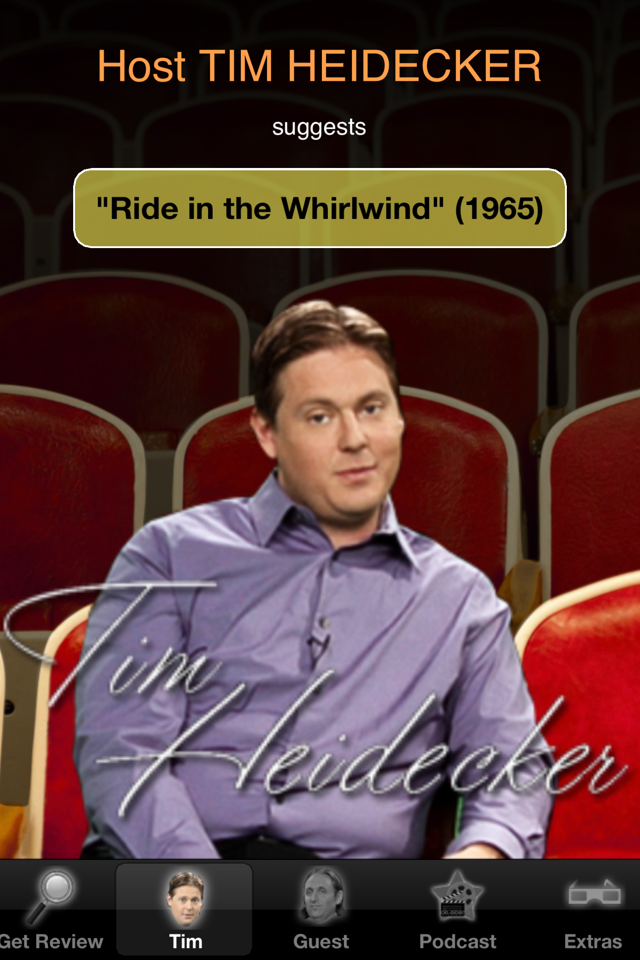 The award-winning On Cinema web series is the only movie review show on the Internet, and now it's the only movie review app on the market. Host Tim Heidecker (Tim and Eric Awesome Show) and Featured Resident Guest And Film Expert Gregg Turkington share their expertise as they offer up-to-date, reliable opinions on the latest and greatest movie releases.  Audio reviews for over 17,000 films are included in this easy-to-use, fun, pocket-sized movie review database.  Each film is discussed and then given a rating from zero (BOMB) to five (CLASSIC!) bags of popcorn.  Available for Apple and Android devices!
You will no longer have to navigate the murky world of film criticism on your own!  Type in nearly any title, and Tim & Gregg have an opinion on it.  They don't always agree–but you'll agree that the On Cinema app is the newest, hottest way to access movie reviews.
Tired of wandering the aisles at your local video rental shop, unable to decide on a movie?  Our randomizing "quick pick" feature can steer you in the right direction.  Tim & Gregg have combined their decades of movie-viewing experience into a fun app that is the life of any party, and a distraction at the workplace.
FEATURES
– FINALLY available, after many requests for an app of this nature
– Over 17,000 unique reviews, at your fingertips
– Link instantly to the latest episodes of the hit On Cinema web series
– Reviews are in English only, though many foreign films are reviewed
– Includes digital version of Tim & Gregg's "ultimate movie popcorn" recipe
– Clock & Constitution
– Available for Apple and Android devices!
Visit the "On Cinema" web series!
Visit the "On Cinema" podcast website!
This amazing app was designed and programmed by Special Entertainment.
Check out our other amazing apps:
Shaky Advice from Neil Hamburger & Shaky Advice from Samwell
 The "On Cinema" app was the #10 top-selling iPhone entertainment app the day that it was released!
"Each week on the On Cinema podcast, comedians Tim Heidecker & Gregg Turkington (aka Neil Hamburger) skewer the stuffy ol' world of film criticism by offering up the most generic and run-of-the-mill reviews of the latest would-be blockbusters. Now, the duo is bringing an even more ridiculous version of their Siskel and Ebert act to the mobile world with an On Cinema app. The app was created by Milwaukee production company Special Entertainment (of "What What (In The Butt)" fame), and comes packed with a number of extras."
— Matt Wild, The Onion A.V. Club
BUY ONE RIGHT NOW!