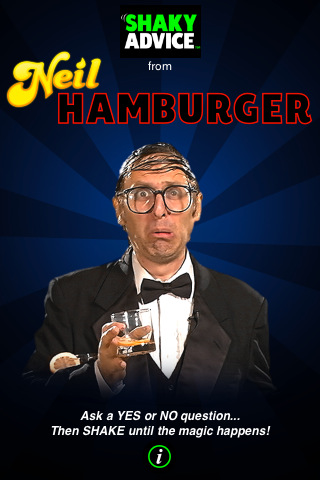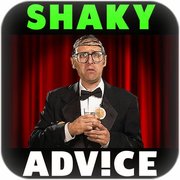 Shake your device for one of 24 random video answers to your Yes or No questions!  All answered by legendary stand-up comedian NEIL HAMBURGER, "America's Funnyman"!
"Download Hamburger's newly released app.
It's better than seeing a shrink… and funnier."
— James Famera, LA.com
"The indie-comedy funnyman helps you make very
complicated decisions about life through borscht-belt meta humor."
— Gustavo Turner, L.A. Weekly
The app currently has a Five-Star rating at the iTunes App Store and it's selling like hotcakes!  To purchase the app go here or just visit the App Store on your iPhone!
NOW AVAILABLE FOR ANDROID DEVICES!  Visit the Google Play store HERE.
Inspired by the Magic 8-Ball novelty toy, our app delivers 30 unique video responses to your Yes or No questions!  Found yourself in a quandary or dilemma?  Just shake your iPhone, iPod, or iPad to get some SHAKY ADVICE!
Featuring:
* 24 Random Video Answers from NEIL HAMBURGER, "America's Funnyman"!
* Magic HypnoScreen with Ice Clinking while shaking the app
* 12 Random Audio Flourishes
* Hours and HOURS of Enjoyment!
"The way it works is you pay 99 cents and you put it on your phone. And then you ask it a question. For instance, 'Should I go to a
baseball game tonight?' And then you shake your phone. You shake it as hard as you can. And then there will be a short video clip, starring
myself, giving the answer to your question. It's very scientific. If you were to say, 'Should I eat dog feces for dinner?, it's very likely
I will answer 'no.' Once you pay the 99 cents, it's yours for life. You can literally ask it 100,000 questions. I think that's a pretty good
value. Even if you're not satisfied, big deal. You're out 99 cents, go fuck yourself."
— Neil Hamburger Interviewed by Richie Charles, Philadelphia Weekly