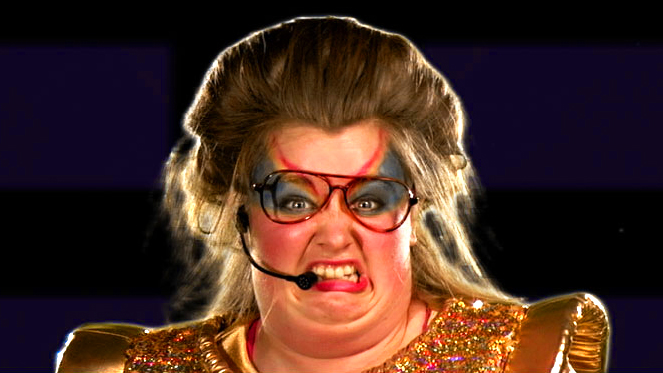 Elvira, Mistress of the Dark graciously bestowed her luxiouriously dark and creamy guest vocals to the Leslie & The Lys song about shooting zombies where it counts. Directed and composited by Bobby Ciraldo & Andrew Swant.
Look for zombie cameos by Mark Borchardt & Mike Schank of American Movie.
Zombie Killer was featured on Boing Boing TV and American Airlines TV when Xeni Jardin interviewed Leslie Hall, frontwoman of Leslie & The Lys.  The video also screened at the Milwaukee Film Festival in 2008.
Leslie Hall has appeared on MTV's Total Request Live, Nickelodeon's Yo Gabba Gabba,  VH1's 40 Greatest Internet Superstars, NPR's Day to Day, and has been featured in magazines such as Wired, Bust, and OK! Weekly.  A recent article from CNN.com says that Leslie is currently in talks with HBO about developing her own television show.
External Links:
Zombie Killer music video on YouTube
Leslie Hall's Official Website
CNN.com article about Leslie Hall